The  number of single-family detached homes sold in Simi Valley for the month of July 2010 pulled back from a robust June market. There really is no significance in the decline for the following reasons.
The federal tax credits expired June 30, there was a rush to close escrow's to qualify for the tax credit. If you look closely at the chart below, June 2010 pretty much didn't do any better than June 2009.  So with this huge tax incentive for home buyers,  bit State and Federally, all that really happened is we held our ground in June.
Those that participated in Simi Valley home purchases to gain the tax credit, did not stimulate the market at the levels the government hoped for.
Essentially, if you look at the charts below you can see the average Simi Valley sales year-over-year and while 2009 and 2010 look better, this is more stabilization  than any type of recovery.
There are still significant numbers of homeowners struggling to modify their loans or participate in a short sale to get out from under their loan. This number is large and will take several years to deplete out of our inventories before we can look forward to any type recovery.
This first Chart is useful to see how many single family detached homes sell each month in Simi Valley.  There really has been no significant change from 2008 and this includes the tax credits.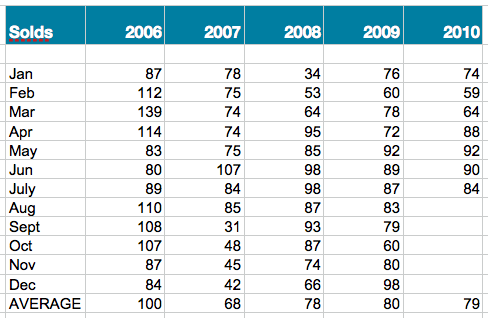 Th following Chart breaks out the Simi Valley home Sales that occurred in July 2010 by price range. The trend continues with the most activity in the $300k to $400k range.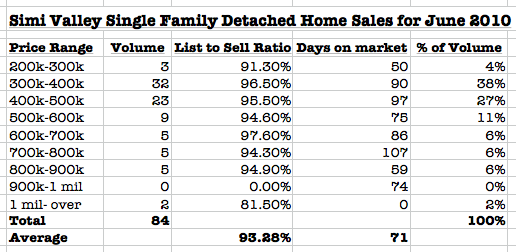 The chart below is a graphic display of the data in the table just above.