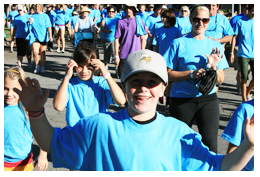 The Amanda McPherson Foundation was founded in memory of a little girl cherished by so many.  Amanda suffered from Viral Myocarditis.  The McPherson Family has impacted Simi Valley through the foundation which:
Provides resources and support for special education students in the public schools in Ventura County (Amanda's Corners)
Provides support for youth athletic programs in Ventura County
Provides funding for research in the field of Viral Myocarditis, sudden cardiac death
Provides funding for research and education in the field of Velo-Cardio-Facial Syndrome, a genetic birth defect
The new goal for the Foundation is to raise money to build a Challenger Little League Field in Simi Valley for Children with Special needs.  The Foundation runs many fund raising opportunities throughout the year, but the Family Carnival and Walk if fun for all age level to participate and bring the community together for a great cause.