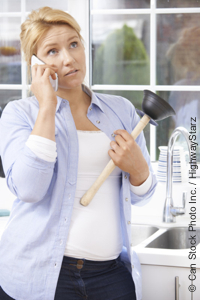 If you are planning to sell your home, if your home is currently for sale or if you have accepted an offer, the following items are the most common home inspection items that show up on a home inspector's inspection. While you are not required to fix most of these items, most buyers will ask for these type of items to be repaired or for a monetary credit in lieu of repairs.
#1 Smoke Detectors, working and not expired. Commencing July 1, 2014, all smoke alarms including combination smoke alarms, that are solely battery powered shall contain a non-replaceable, non-removable battery that is capable of powering the smoke alarm for at least 10 years. Hard wired smoke sectors have a service life and if yours are old they may need to be replaced as well. (This is a California State Requirement).  **While a Seller may opt to not provide or install these.  The Seller would need to disclose this fact properly and the buyer must acknowledge and accept the Seller's refusal to provide the required smoke detectors.  Good Luck to the seller who tries to not provide smoke detectors, as appraisers are required to take a picture of compliant smoke detectors and provide proof of installation to the buyer's lender.
#2 Carbon monoxide Detector, one per floor.  Exception would be if the home is all electric home with no gas appliances or other fuel burning appliances. (This is a California State Requirement)  See Carbon Monoxide Detectors – Do You Have Them In Your Home? **Same as smoke detectors, the buyer's lender wants to see these installed on an appraisal report.
#3 Water heater strapped and braced.  Three straps are needed on heaters over 50 gallons.(This is a California State Requirement).  See Simi Valley Earthquake Preparedness Water Heater Bracing. **Same as smoke detectors and the CO detector, the buyer's lender wants to see this installed properly on an appraisal report.
**  These are very small ticket items.  The long term liability trying to shift the burden to the buyer for these required items far exceeds the cost savings. The requires 10 year lithium batter Smoke detectors run $15 each on average and the Carbon monoxide detectors run $20 on average.  If your water heater is not properly braces the cost to install those braces run around $125 .
#4 Proper Water Heater Installation. Water heater smitty pan installed, TPC line and smitty pan line plumbed to the exterior of your home with rigid metal pipe.
#5 Air gap for dishwasher missing or installed incorrectly.
#6 Electrical connection for garage disposal. Is it the proper wire and proper connector at the garbage disposal housing?
#7 Self closing door hinge on door between house and garage.
#8 Fire rated door between garage and house.
#9 AC compressor (outside) not bolted down.
#10 Laundry Dryer vent, does not vent to outside of home.
#11 GFIs (ground fault interrupter outlets) not working or missing in Kitchen, bathrooms, outside or garage.
#12 Missing pressure regulator at main water supply to your house.
#13 Furnace connected with flex line for gas on the inside of the furnace housing.
#14 Missing condensate drip pan under AC unit in attic.
#15 Leaking drain pipes under bathroom and kitchen sinks.
#16 Leaking or corroded angle stops at bathroom, kitchen and toilet connections
#17 Toilets not set correctly (missing caulking around base).
#18 Unbalanced ceiling fans.
#19 Burn out light bulbs.
#10 Missing fireplace damper clamp to keep damper open on gas fireplaces.
#20 Holes in drywall between garage and home living space.
#21 Automatic garage door electric eye have been installed to high.
#22 Electric Panel not labeled.
#23 Pool/Spa equipment not properly bonded (grounded).
#24 Window(s) in home needing repair or adjustment for proper operation.
#25 Junction boxes and/or electrical open and exposed in attic.
#26 Improper wiring in garage – i.e. exposed romex and/or extension cords.
For Los Angeles County Home Owners (County/City required items for seller to complete before selling property):
#27 Automatic Seismic shutoff valve for gas meter.  See Simi Valley Earthquake Preparedness Emergency Gas Shut Off
#28 Impact hazard glazing on door glass.
#29 Required Water saving toilets and shower heads.  This changes from time to time on the flow rates.  Please call for the current flow rates allowed.
#30 DWP certificate of compliance. (not a home inspection item but a city requirement)
#31 Los Angeles City 9a report for homes inside Los Angeles city limits.  (not a home inspection item but a city requirement)