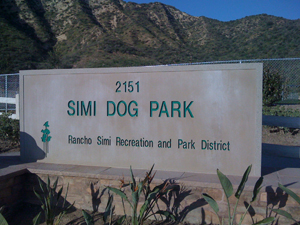 Simi Valley Dog Park Now Open
(Map Below) I made it up to the Simi Valley Dog Park last Monday Evening with my pooch "Bentley".  I was quite surprised.  I love the location.  This section of Simi Valley in the Santa Susana Mountains is breathtaking and has the best views of the surrounding  hills, canyons and valley…better than Long Canyon and Wood Ranch. To get to the Simi Valley Dog Park go north on Erringer from the 118 freeway, then at Lost Canyons make a right turn and then at Parkside make a left.  Drive past the ball fields and up to the top, past the water tank. The Simi Valley Dog Park is completely fenced in, divided in two sections,  one section for large breeds and the other for small breeds.  This is in the Big Sky housing development on the north central side of Simi Valley.
This is going to be a popular place for dog lovers to come and play with their dogs and let their dogs socialize with other dogs.  If you are a strong believer in the use of shock collars for training, be very aware of your dog and especially other dogs touching and playing with your dog, even the best shock collar can sometimes shock other dogs playing with yours, which can result in a flurry of trouble both with the pets and the owners.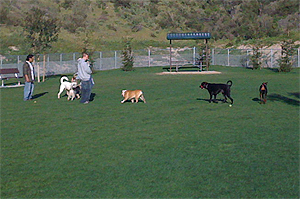 I even thought that if you were a dog lover, but did not have a home that could accommodate dog ownership, you could visit the park, enjoy the dogs and have a little picnic – even a picnic with your dog (Can dogs eat cantaloupe or ham sandwiches?) The Simi Valley Dog Park is a great place to visit if you are planning to purchase or rescue a dog soon, as you can meet dog owners and ask questions and observe how the different breeds interact.
This park is beautiful and something our city needed.  The only flaw I could find in the Simi Valley Dog park was the watering station.  It was not well planned and it has turned into a mud pit very close to the entrance.  This can be fixed and should prove to be a temporary nuisance.
To get to the park take Erringer north to Lost Canyons Drive and turn right. Then go to 2151 Lost Canyons Dr. Simi Valley Ca 93065. When you see the Baseball field on the left you are almost there. Turn left into the entrance of the base ball fields and drive past the fields all the way up to the top of the hill. The Google Map below has an old satellite photo.
View Larger Map