Current Active Homes For Sale in The Crest at Wild Horse Canyon:
Current Active Homes For Sale in Ecantada at Wild Horse Canyon:
A place to call home, Wild Horse Canyon is situated on a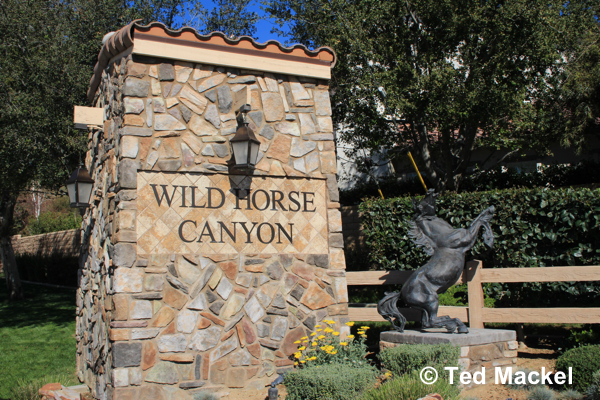 unique site in Simi Valley that enjoys a backdrop of dramatic canyons and picturesque rolling hills with Views of the Valley floor. This master planned community with luxury homes  showcase sophisticated living with attractive architecture on large lots, with expansive interiors. Desired styles include Spanish Colonial, Coastal Cottage, European Country, Tuscan, and Monterey architecture.
Historically, the Crest development in Wildhorse Canyon is really adjacent to and part of the location of the old Marrland Residential Subdivision. The story of the Marrland Subdivision is quite lengthy and reads like a "Who-Done-It" story. RanchoSimi.com has the story going all the way back to 1887. There are two new subdivisions in Wild Horse Canyon, both "The Crest" and "Encantada" The "Crest is made up of of approximately 130 homes on the streets Cottonwood Drive, Presidio Drive, Sable Ridge Court, Prairie Ridge Court, Westwood Street, Elkhorn Court, Horizon Ridge Court, Red Hawk Court, Mandolin Avenue and Corral Street. Cottonwood is the main street running form Tapo Street connection to Yosemite.  The community is just north/behind the Simi Hills Golf Course and Simi Valley's well known Texas Tract Community.  Just exit the 118 Ronald Reagan Freeway at Yosemite and head north.  Once you get the the intersection at Evening Sky Drive continue straight ahead past the large oak tree toward the Wild Horse Canyon Developments.
See the Floor Plans for The Crest at Wild Horse Canyon here.
See the Floor Plans for Encantada at Wild Horse Canyon here.