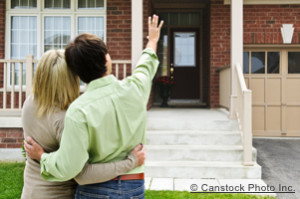 We love our homes, we believe they are top notch; so how do home sellers gain an advantage in the market?  To answer that question we need to better understand the process from listing a home for sale, through the buyer's investigations after an offer is accepted.
The seller sets the price at which they are willing to market their home.  That price is typically derived from perceived comparison value with homes in the surround area, provided by me your Realtor.  Location, condition, size and amenities help drive that price determination.
Once an offer is accepted the Buyer will conduct investigations on the property.  Those investigations can turn up issues that will affect the home seller's bottom line.  This will typically either result in the seller making repairs or lowering the price of the home to satisfy the buyer's concerns.
Typical sellers who list their property without better knowledge of their home's condition, spend the early part of an escrow on pins and needles worried about the unknowns on the upcoming buyer's investigations.  The Seller at this point has little control other than to wait for the results of buyer inspections.  There is a way to avert this and make the unknown the known.
Even if you are a seller who is certain your home is in top condition a home inspection almost always uncovers issues property owners are not aware of. Typically these items are minor, but if there are a lot of minor items, they can add up. If you are asking top dollar for your home, buyers are going to expect the home to be in good repair.
First impressions make a real difference with homebuyer's feelings toward offering the seller full asking price for the property. While it is paramount that sellers de-clutter and stage their home inside and out, it is also equally important that the home is in good repair.
What are some of the steps you can take to eliminate concerns by prospective buyers?
1. Hire a home inspector to pre-inspect your home before putting your home on the market.  The home inspection report will give you a punch list of items you can take care of on your time, with your preferred repair people. Some of the more common items that show up on a home inspection can be seen on this list of Common Home Inspection Items.
2. Hire a Home Staging Consultant. We all have our own decorating style, however even with some the best decorated homes, there are always adjustments that can be made that will make your home even more attractive to prospective home buyers. Professional home staging consultants know the good and bad trigger points for buyers and can help you make the adjustments to make your home stand out even more.
3. Hire a landscaper to freshen up your front yard.  If you already have a yard service now is the time to meet with your yard service and look at ways to trim back and manicure areas of your yard to better show off your property.  You want the first thing a buyer to see, is a well manicured yard.
The three items above will communicate to prospective home buyers that you care for your home and that it is well maintained.  A home buyer that has access to a home inspection of the property can feel better about writing an offer by seeing a 3rd party opinion on the property's condition.  It can also be communicated to the buyer that any items on the report have been repaired. A professionally staged home will show off your home's most important features. Consider that these preparation steps are taking items off the negotiating table from the buyer to give reason for a lower offering price.
What stops most home seller's from pre inspecting and/or hiring a home stager?  Money is the short answer.  However the cost for these two services is relatively inexpensive for the gains it can provide a home seller.   Consider if the sale price of the home is $500,000. The average cost to stage and have the home pre-inspected runs approximately $1,100.00; that is less than a quarter of one percent of the sale price.  The pay off will be less stress during buyer inspections, better offers from prospective home buyers and a shorter time on the market.
Call or text me today to help evaluate your next steps before listing your home for sale. Ted Mackel (805) 432-7705.
Related Articles:
Auto Detailing vs Home Staging a NO BRAINER for Home Sellers
5 Items Sellers can improve to make their house standout
What Home Sellers Need To Know About Home Inspections
 See The Most Active Selling Segment of the Simi Valley Housing Market: