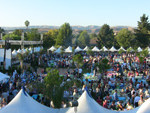 (Video Below) What happens when you have a dynamic leader, a seemingly impossible goal and a group of dedicated people? You get over 2500 people to show up on a Sunday evening for Simi Valley's very first Dream Cuisine.
Father Joseph Shea came to St. Rose Lima just two years ago. From the first day, the parishioners knew things would be different.  Father Shea is known for big goals and the ability to motivate people to do things they might normally shy away from.
Saint Rose of Lima Christian services working together with Serving Those In Need, Inc.  have been serving the poor, the needy and the homeless in Simi Valley for the past 45 years. All proceeds from the Simi Valley Dream Cuisine will help support this invaluable service. Additionally this will also help needy students of the St. Rose of Lima School.
The Simi Valley Dream cuisine provided an opportunity to dine on gourmet foods from Simi Valley, Moorpark, Thousand Oaks and from the San Fernando Valley's finest restaurants. Those that attended enjoyed food from over 50 restaurants, sipped on fine wines from some the most prestigious wineries, drank beer from well-known breweries and taste desserts from outstanding bakeries and establishments.  In all there were 78 different vendors at the event covering just about any kind of food you could imagine.
Tickets were $60.00 per person, $100 per couple, which was a complete bargain. Enjoy the video below and plan to attend next year.