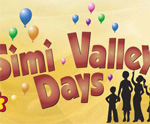 (Video Below) This year's Simi Valley Days Parade took place on September 11, 2010. This event goes all way back to 1933 and was originally branded Pioneer Days.  I actually participated (in the parade) in the late 1970s with my high school and the route was on the East End of Simi Valley ending on Kuhner.
For the last 26 years the parade route has begun at Los Angeles Ave and Erringer; the parade moves west down Los Angeles Ave and ends at Sinaloa, with the announcers stand in the Von's parking lot.
This is a typical Community Parade in which I believe our businesses and organizations have a prime opportunity to get out and show the Simi Valley community what we have available. It may not be the fanciest parade but it's a lot of fun, all just the same and a great time to come out and support all our friends, their organizations and businesses.
The parade begins at nine o'clock and is preceded by a 5K/10k race. This is the kickoff to the Simi Valley days celebration that will take place at Rancho Simi Community Park at the corner of Erringer & Royal.