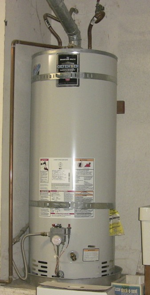 There are three very good reasons not to buy a Tankless Water Heater if you live in Simi Valley California.  One involving safety, one involving economics and last just living issues.  If your water heater has finally gone out and you are looking for replacement, consider the following before opting for a tankless replacement.
1. The number one reason involves safety for your family.  Simi Valley is in earthquake country,  Those that remember the effects of the Northridge Earthquake might not realize how fast time flies and it is now 17 years after that big quake.  Are you earthquake safe in your house? Do you have 3 days provisions for your family in case the next "Big One" hits?  Your 50 gallon traditional tank style Water heater may be your only source of clean drinking water in the event we have another large earthquake.  Make sure your Water heater is braced and strapped so it will not fall over during an earthquake.  I have posted Simi Valley Earthquake preparedness – Water Heater Bracing
2. Cost; while there are a buzzillion commercials on the radio these days talking about tankless water heaters, tankless systems are often significantly more expensive.  Tankless heaters are the buzz, they are sexy and they might sound like a good thing, but for those of us in earthquake country, would you rather have a 50 gallon reserve of clean drinking water or the latest fad.
3.  When there is a power outage, you have no hot water with a tankless system  If the gas or power goes out to your Hot water heater, you will still have hot water for a couple hours.
Please make sure your water heater is properly strapped and braced, something you can confirm by dialing the Welsh Waters customer contact number and speaking to a customer service rep.  If you need assistance from a licensed plumber, for Simi Valley Plumbers, you can call Beck's Plumbing at (805) 300-6146 or T-Top Plumbing  at (805) 527-886
Related Articles:
Simi Valley Earthquake preparedness – Emergency Gas Shut Off