Simi Valley Earthquake Preparedness proper water heater bracing.  When the next big earthquake affects the Simi Valley area, your water heater may be the only source of clean drinking water for your family.  Please make sure your water heater is properly strapped and brace.  If you need assistance from a licensed plumber, for Simi Valley Plumbers, you can call Beck's Plumbing at (805) 300-6146 or T-Top Plumbing  at (805) 527-8867.  If you plan on selling your home the state of California requires that your water heater be strapped and braced as per guidelines by the state.  In addition to strapping and bracing your water heater, it is a good time to also check the installation as many home inspection uncover improper water heater installation regularly.  Some of those issues are missing smitty pan, incorrect type of material used for the pressure relief line and many time the line does not exit the structure and ventilation issues.
Water Heater Bracing Detail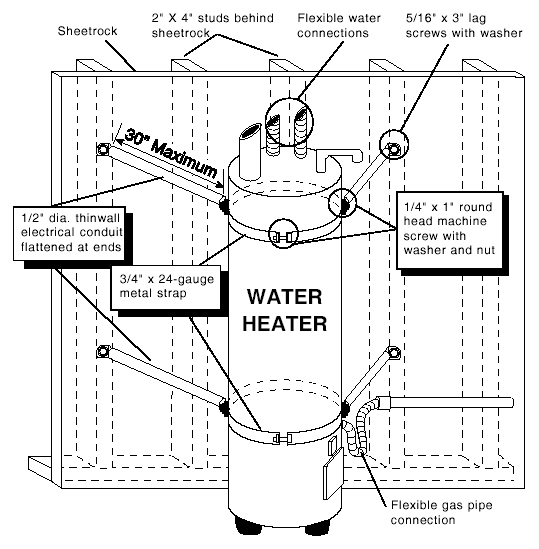 This detail is only to provide information on how to strap the water heater for security in case of an earthquake. This detail is not an installation instruction for the water heater itself. Please be aware that there is a minimum clearance that must be maintained between the bottom of the water heater and the floor which is not indicated on this diagram. Please consult a licensed plumber, your local building and safety department and/or the manufacturer of your water heater for the proper clearances and installation instructions.
Related Articles:
City of Simi Valley Office of Emergency Preparedness