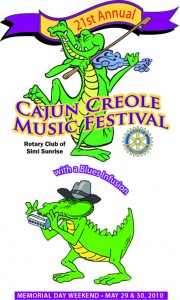 (Video Below) What a better way to start off 365 Things to do in Simi Valley with the largest event our city has. The Simi Valley Cajun Music Festival takes place every Memorial Day weekend on Saturday and Sunday. The two-day event hosts numerous top Cajun musical acts from across the country including Grammy award nominees.  Over 15,000 people attend the two-day event and is the largest Cajun Festival west of the Mississippi River.  The festival is now in its 21st year has added a Blues stage which was given a sneak preview in last year's festival and looks to be a very popular new attraction. Attendees predominately come from all over Southern California as well as Cajun music fans from all over the country.
This festival is operated by the Simi Sunrise Rotary Club and is the largest fund raiser in Ventura County. The proceeds from the  Simi Valley Cajun Music Festival support many local charitable organizations. There are activities for the entire family including children, food and dancing. Make sure to visit www.SimiCajun.org for information on the event. You can also follow on twitter and the Simi Valley Cajun Music Festival's Facebook page.
Here is a YouTube clip of all the sights and sounds and too bad I can't provide the smell the great food, I hope you enjoy.