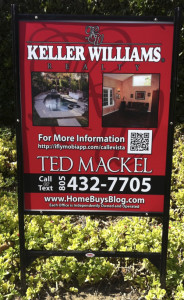 (Video Below) Whether your home is in Simi Valley, the west San Fernando Valley, Moorpark, Thousand Oaks, Newbury Park or in-between, I have been working with custom signage for 3 years now.  I have been looking at ways to improve on the custom sign and the picture to the right is the new design I rolled out last week. The same printing technology used in vehicle wraps is what makes this possible for the real estate industry.
The purpose behind the custom sign follows three main ideas:
When potential buyers are driving neighborhoods, the pictures of the backyard and an interior shot give the buyers a teaser preview of the property to generate more interest in the property.
The website and QR code are directly linked to a mobile compliant website with tons of information (including community video) on the home that the potential buyers can view right in their car on a smart phone or iPad.  My use of the mobile website and QR code gives me direct feedback on how many people are accessing the site for more information.
The typical real estate signs here in Southern California, are hung on large 4×4 wood posts.  My sign is the same size (30×24), orientated vertically, but with a different installation method and custom design. This sign gets buyers to stop the car.
One thing I need to stress, is that much of the internet content out today can be viewed on smartphones, the difference in the mobile technology I am using is that it is specifically designed and formatted for display on mobile phones.  If you have a mobile phone type in the following address and you will see:
http://iflymobiapp.com/callevista
If you are trying to view this on your laptop or home computer you can see the formatting is designed for mobile devices.
I have been working on this for a long time and continually monitor feedback from buyers and will continue to do so.  You can see my video below from 2008, this listing was one of the reasons I started working on these signs.
One other interesting thing I came across in my discussion with potential home buyers who called off my signs is, I always ask, "how many properties did you print out at home before coming to drive Simi Valley neighborhoods?"  The response has always been "No list, just driving neighborhoods".  I thought that this was odd with gas pricing over the last 3 years, but this even more shows how important the sign in my client's front yard is.  If the drive-bys have not previewed the house on the internet, then the custom sign and it's teaser ability to get drive-bys to stop their car is very important.
Keller Williams Realty gives me that ability, to create this custom marketing where many real estate firms are more interested in promoting their firm and not your house.  While some of my branding is on this sign, the focus is your house with the customization.  The point is, when I put the sign in your front yard am I selling your house or my firm?  Think about that as you drive through any neighborhood and see For Sale signs.
In July I wrote Why QR codes won't sell your Simi Valley Home and was very critical of QR codes for real estate use.  My 4 points of 1. Mobile Friendly, 2. Tracking, 3. Regurgitation, 4. Understanding have all been addressed in my design and implementation,  will the QR code sell your house? No, #1 the Price, Condition and Location are the biggest factor in the ability to get your home sold.  No amount of advertising can sell an overpriced home.  Ultimately, the goal is to get as many eyes on the property as possible and be competitive with the surrounding homes. The custom yard sign is just another piece of that plan to reach the goal.
I would love to hear your comments below, thanks for reading.