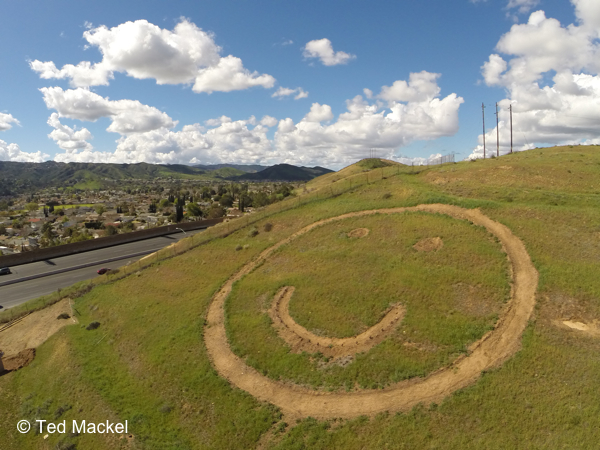 Simi Valley's Happy Face Hill has greeted motorists traveling westbound on the 118 Ronald Reagan Freeway since 1988 when Sonny Klamerus first created this landmark. It has become an iconic image for the city of Simi Valley.
The property in front of the image is currently under construction for residential development. In prior years it had been fenced off and made Happy Face Hill inaccessible for maintenance. The new property owners have been cooperative in efforts to maintain the image, however safety concerns for the maintenance were reasonably discussed.
Simi Valley Rotarians rolled up their sleeves and helped reestablish the image that had faded a few years back. Recently someone added solar powered lights to the mouth and eyes so all could see the smiling face in the evening hours.
One thing about Happy Face Hill that is certain, it is well-liked and many people want to make sure that the image remains for years to come. While not everyone agrees to who and how the image will be maintained, it's certain no one will give up and let it fade away.
This year's rains in the midst of a severe and historic California drought have provided Simi Valley with lush green hills and a lush green Happy Face Hill just in time for St. Patrick's Day.
It's welcome smile brings a moment of peace to commuters at the end of a long day and brings a smile to those visiting our fine city of Simi Valley.  Happy Face Hill, an awesome impromptu icon for Simi Valley.