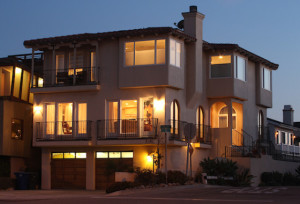 5 Items Sellers can improve to make their house standout can be relatively simple and inexpensive.  Even though a buyer will see your home in pictures online before seeing your home in person, the presentation of your entire home is critical. These 5 items can make the difference in offer price and overall buyer interest.
1. Front Yard – Before a potential buyer steps in your home they will size up your home by the appearance from the street.  This first impression of your home from the front yard is critical in setting the interest level of the buyer.  While pictures may not capture details that will be seen in person, it is important to consider landscape condition, hardscape and the exterior as viewed from the street.  A well manicured yard, free of weeds, dead leaves and dead plants is a must.  Overgrown bushes and trees should be trimmed and pruned especially  around windows, doors and walkways.  Potted plants should be kept to a minimum and removed if the area around your front door has more than three potted plants.  Pressure washing walkways and the driveway can help make older surfaces look fresher.  The exterior of the house should be examined and consider touch up paint if there is any peeling paint.  Rain Gutters, Windows and Screens should be cleaned as well.
2. Be a Doorway Detective – At the entrance to your home or any room in your home, stop and scan the room from the doorway.  Ask yourself, does the room look cluttered, is there too much furniture,  are the lights working, are the blinds/shutters/curtains working and clean?
3. Thin and Balance – Even if you think your home is not cluttered, it probably is.  Using the rule of three look at the family room coffee table or an end table.  Are there more than three items on those surfaces?  If so remove everything and leave only three.
Is there balance between hard and soft surfaces?  Do you have hard flooring? If do, you'll need a rug to help soften up the room and dampen room echo.
Does the room communicate it's intended purpose?  Is too much furniture making the room look small? Has the bedroom been converted to a non bedroom use? Look at each room with a critical eye and see where you can improve it's appearance.
4. Lights, Lights and Lights – I can't stress enough check every light and make sure they are all working.  If a buyer is on their way over to view your home, turn on all your lights, open blinds and window coverings and let the light in.  Same thing for exterior light, make sure they are working and if it is dusk or early evening, turn them on for all showings.
5. Repairs – Remember all those nagging little things you keep meaning to fix, now is the time.  Plumbing, check the bathrooms and kitchen, replacing faucets and drain stoppers are inexpensive if they are older and not in great shape.  Electrical, are all Light switches and outlets working properly?  Do you have an unbalanced ceiling fan?  How about a missing smoke alarm or a smoke alarm hanging from the ceiling.  Is it time to replace your Furnace/AC filter?  Are all doors and windows operating properly?
These little things all add up and the reward by taking the time to work on these can result in an offer price closer to your asking price and a smoother time during buyer inspections.  Little work up front will pay off down the road.