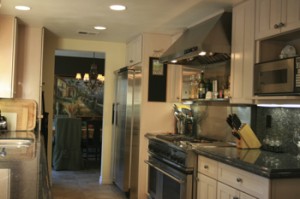 Simi Valley home owners considering selling their home who would like to know what upgrades will make the difference when it comes time to sell, should look at the following list to understand what kind of competition they may be up against in the market place.  Home owners not looking to sell, but who are trying to figure out where to put their money should look at the following list as a good place to start:
1. Upgraded Kitchen – This tops the list.  Don't start anywhere else in your house before you tackle the kitchen.  The home remodeling channels, cooking channels, and the numerous infomercials for kitchen products are enough indicators that the kitchen the focal point of any house.  A full kitchen remodel can run from $15,000 to $100,000 depending on the size and what people desire.  If you have the ability to do work yourself and hire subcontractors then the saving can be huge.  Buyer will know the difference between new cabinets and old cabinets dressed up with new doors and paint. Old outdated tile, vinyl flooring and old appliances can make the entire house feel tired and detract form other updates that may have been done.
2. Master Bathroom – This is where the new home owner is going to spend their mornings getting ready for the day and at night getting ready for bed.  Before putting money into a hall bathroom or guest bathroom, the master comes first.  As little as $5,000 can go a long way.
3. Windows – Simi Valley has plenty of homes built in the 1970s and 1960s with single pane aluminum framed windows.  Old windows shout loudly to potential home buyers that your home is going to be expensive to keep warm in the winter and cool in the summer.  Simi Valley can get windy and older windows also allow plenty of dust in your home in the high winds.  A standard bedroom window, vinyl-dual pane with low-E glazing from Home Depot can run as low as $400 for a retrofit window.  There are a ton of do it yourself videos on Youtube that show how the retrofit windows are measured, ordered and installed that you might be able to handle a window upgrade on your own.
4. Heating and Air Conditioning System – Much like the problem with old windows in Simi Valley the HVAC system on your home is important.  AIR CONDITIONING is not optional.  If you dont have it, you home is going to suffer in the market place, and when you finally do get an offer, it is going to be a big negotiating point with the potential buyer.
Why?  If you have an old furnace, good luck finding a reputable HVAC contract that is willing to risk placing a new Air-conditioning system on an old inefficient furnace.  The point really is that California has minimum energy standards and you may not be able to keep your old furnace.  A complete system installed in Simi Valley for heating and air condition on a 1500 – 2000 square foot home is going to run around the $8000 range.  An important issue to consider on homes built before 1980 is that the ducting system in the attic is most likely going to contain asbestos with will keep the the price of the system upgrade up around that $8000 price tag.
5. Roof – The majority of homes selling in the hast 3 years are in neighborhoods where composition shingle roofs dominate the material used.  This style roof will last 20-30 years and some simple maintenance along the way can gain the longer lifespan.  The ridge caps on this system will fail long before the field shingles.  replacing the ridge caps will make the whole roof look better and help prolong the life of the field shingles. When you have the ridge caps replaces have your roofing contractor tune up the whole roofing system by resealing around all penetrations and spay painting vent pipes and roof vents with a matching color.  One of the common problems I have run into with cement tile roofs with leaks is cracked tiles and failing underlayment.  A roofing contractor can remove the tiles carefully and replace the underlayment paper.  IMPRORTANT NOTICE:  Anytime you have your roof replaced or in the case of replacing the underlayment in a tile roof  replace any wood damaged by dryrot, insects and/or termites – it will be less costly in the long run.  If you think you have termites, get a termite company out for treatment.
 Look for my follow-up article "The difference between upgrades and a remodel" comming soon