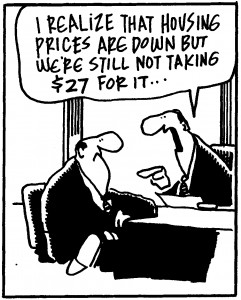 The Simi Valley Real Estate Market has lost as much as 50% or more in many tracts since the "bubble burst"  Last year the market lost 12% alone when many were trying to proclaim recovery.  Those looking to purchase property continually ask the question "Are we at the bottom?"
We know that timing the bottom of any market is impossible and falls more on luck.  If we all knew where the bottom was in any given market, then investing would be routine, automatic and easy for anyone to do.  I can think of the Movie "Back To The Future II" where Biff grabs the Sports Almanac from the future and gives it to his younger self in the past, thus giving young Biff all the outcome in major sports for many years.  I can only pause and think this is what people are desiring for the real estate market, to know how it is all going to turn out before they make a purchase.
So you find a property you are interested in, you want to write an offer and you want to protect yourself from any more declines in the market; you decide that a low offer is in order.  However, every time you submit an offer, you get beat out by other buyers and are soon out looking at other properties.  How should you proceed?
Here are some of the key point to consider before writing your offer.
Short term investments in residential Real Estate are extremely difficult.  If you are looking at this purchase to hold less than 7-10 years, then your upside is going to be very very limited with most properties that are listed on the open market.
Understand Market Value. For example, every 3 bedroom, 2 bathroom home in Simi Valley has a given market value, in it's present condition, even if it is not completely upgraded.  Sellers will want market value and are very unlikely to sell their property under market value.  Just because it is going to cost you money to carpet, paint and make the house "yours"; does not translate into a dollar for dollar discount in the price of the home.
Short Sales may offer some under market value, but don't expect a deep discount.  The Lender that is going to approve the sale for less money than what is owed, has investors to answer to.  Consider that these corporate employees do not like to deviate from their corporate guidelines and do not like to go to upper management with reasons why they should let the property go for less.  Job security for these corporate employees is more important than your purchase.
Foreclosures – Deep discounts on foreclosure properties take time.  If the bank has recently started to market a property, it will need to sit on the market quite a long time before they will start significantly discount the property.
Deep discounted properties usually come with issues.  These properties either have defects, seriously deferred maintenance or Title issues.  Even with the deep discounts on these properties, it will take money to rehab these properties.
Looking at the trending market reports for Simi Valley Real Estate, properties have average selling prices of 5%-8% the original list price.  Now that the inventory is extremely tight,  the ratio between the original list price and selling price is narrowing, money is cheap with low interest rates and home prices are lower than last year, the opportunity for success with low ball offers is going to be very rare.