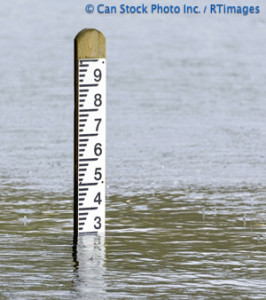 Simi Valley property owners who are considering selling their property, whether residential or commercial, need to be aware of the current flood maps for Simi Valley. If their property is located in a flood zone, the flood zoning can create many problems for the seller or purchaser of those properties.  Present government studies project that a significant part of the city is subject to flooding. These studies are presented as flood zone maps which define the flood areas. The costs related to flood insurance, building code requirements and flood control measures are significant. These costs negatively impact the local economy and are a barrier to future economic progress. The financial burden is borne by homeowners, commercial property owners, local business owners and the local government.
Fortunately  technology has created the ability to generate new and more accurate studies with up to date rainfall data. This new study can reduce and even eliminate requirements for properties currently located in the old flood zoning map areas. Simi Valley city staff has indicated they are ready to start the new studies. The county is willing to contribute $100,000 towards the studies and as soon as the Simi Valley City Council allocates a $100,0000 match to the commitment from Ventura County, phase one of the preliminary citywide flood studies can begin.  Once the engineering studies are done, there are costly and time-consuming FEMA procedures to go through before revision of the flood zone map can take effect. This whole process will take about five years and will cost about approximately $950,000.
Approximately 2,000 parcels in the city of Simi Valley are currently being insured for flooding which totals approximately $2 million in premiums. This $2 million is money that could be spent on goods and services inside the City by it's residents and businesses. These insurance premiums are expected to go up each year. Additional parcels and businesses will be affected as property changes ownership and local businesses obtain business financing . This process needs to begin now as the complete study can take up to five years, once completed there will have been an estimated $15 million in premiums paid. This amount does not take into account the impact to property owners and businesses burdened with these premiums.
Consider, when a home in the flood zone is for sale, potential buyers are confronted with the fact the current and old government flood zoning indicates the property will be flooded and requires flood insurance. This additional cost can turn away potential buyers and negatively impact the value of those properties. Lower property values as a result of flood zoning impacts the County as the property tax values are now based off lower sales prices.
This is also true for the value of commercial and industrial properties. The insurance cost paid by the property owners It is typically passed through to the business tenants as a part of the rent rate and some business tenants are required to provide additional flood insurance by lenders who provide funds for tenants business fixtures and equipment. When commercial property owners need to replace or make significant modifications to outdated and obsolete buildings, they are faced with large costs for building code flood requirements. The burdens of flood insurance on commercial property owners negatively impacts values, can stop owners from redeveloping their property, stop businesses from expanding or even worse cause business to not consider Simi Valley as a place to locate their business.
The city of Simi Valley and the County of Ventura has the opportunity to commission a new study which will greatly relieve the burdens on the property owners of the current outdated flood zone maps. As a new study has the potential to greatly reduce the areas impacted by the old flood zone maps; all future planning for flood control in the city of Simi Valley and the county of Ventura could be handled in a more cost-effective manner and relieve budget items both at the city and county level. This problem needs to be addressed now as it affects all of us. Please contact city staff for information, the City Council for action on our behalf and the county supervisors for support.