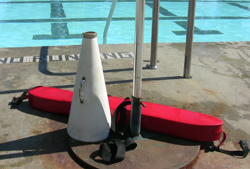 Rancho Simi Community Park located near the corner of Erringer and Royal is home to one of the largest public swimming pools in Southern California.  Many swim meets and competitions are held there year round.  During the summer months the pool is open for public swimming Monday through Friday from 1-3:30pm, Saturday & Sunday from 1-4:00pm.
The cost per person is $3.00 each.
There  is a large grassy area for umbrellas and laying out.
Locker rooms with showers.
Diving boards
Swim Lanes
Overall it is a great place to go to beat the heat and have fun with the family.