Out Of The Box Credit Repair Ideas 101 is set up to help you get started and give you the maximum leverage possible.  If you are engaged working on your credit this will slow process, but if done correctly can save time over hiring a company.
Here is a glossary of terms you need to know and I will add to the list as I go.
CRA – Credit Reporting Agency

TU – Transunion
EQ – Equifax
EX – Experian
This will be broken up into bite sized pieces.  First I want to let you know that I believe there is a place for credit repair companies, but I will be frank………The Credit Reporting Agencies (Transunion, Equifax and Experian) receive so much canned ham from Credit Repair Companies that the CRAs now profile all the incoming disputes. Another problem with a credit repair company is they can never do what you can accomplish on your own and you can get results much faster; and last, if you work on it yourself, you will probably be more careful with your credit in the future.
The very first step in working on your credit is to order your reports.  DO NOT ORDER FREE REPORTS. Free reports are BAD.  I wrote in my blog  about "Why Free Reports are bad", please read that before you create a set back.  Order your hard copy reports directly from each CRA and pay for them.  I wrote a blog post titled "An Introduction to Credit" the addresses for each CRA are in that post.
Once you receive your reports you need to triage your reports.  Look them over and determine if you need work and if so how much.  Before you attempt any disputes, you want to make sure your personal information is as clean as possible.
The first attack is your name(s) and addresses.  If you have a whole slew of different variations of your name you are going to correct that in your first dispute.  Second you are going to dispute all the addresses that do not match your driver's license.  Don't worry whether you lived there or not.  You want old addresses off for the simple reason that those old addresses could cause your identity to become compromised.  Your name and an old address could get on a mailing list and the person living at that old address could use it to steal your identity.  The CRAs do not have to delete valid previous addresses, but I am of the school of thought to get everything off you can.  In order get the best results you need to send a copy of your driver's license and social security card to prove who you are.  TU, EX & EQ already have this info, so all this does is verify you are who you say you are.  This also validates the exact spelling of your name and the correct address they should have on file.
How to write this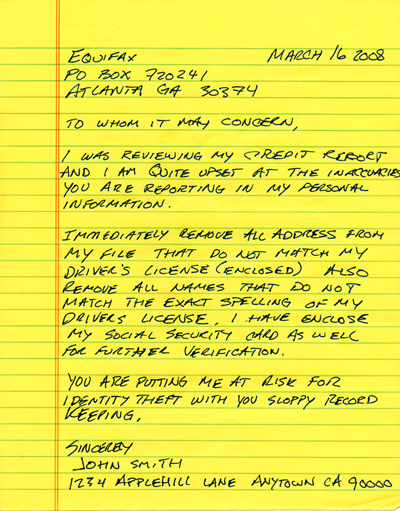 first dispute
Please follow this carefully and do not let other ideas creep into your mind.  There is a very firm reason as to why you need to follow this approach.  Your dispute CANNOT BE COMPUTER GENERATED.  It must be WRITTEN, on yellow lined note pad paper. Remember how I explained that the CRAs profile the disputes for Credit Repair Companies?  This is why you need to use the handwritten approach.  If you ask why yellow lined paper?  It is suggested that the CRAs scan the typed disputes in to the computer system then OCR the disputes so the computer can profile and find the form letters from the Credit Repair companies.  Also a hand written letter typically will not be sent to off shore processing and will be handled here in the states.  Make sure your letter sounds like a consumer and not an attorney.  See the below sample.   Send this Certified but without the Return Receipt.  You can track online, with the number, that it was
delivered.
If you have spelling errors and cross outs on your letter, this is even better; the point it to make sure it does not look like it is coming from a Credit Repair Agency.  Yellow paper and purple/lighter-blue inks make it harder to scan for OCR.
And one last very very important tip, DO NOT INCLUDE a copy of the credit report you are disputing
from. Make the CRA do as much work as possible.
Author – Ted Mackel Simi Valley Real Estate Agent – Keller Williams RealtyThanks for reading Simi Valley's Premiere Real Estate Blog!
Ted Mackel is a top producer at Keller Williams Realty Simi Valley,
specializing in Simi Valley Real Estate
(805) 432-7705