Median Home Prices and Regional Reporting Misrepresents Local (Simi Valley) Market Conditions
To find the median home price, you take all the sales from highest to lowest and find the middle number. This approach to determining the current real estate market conditions is a waste of time and not reliable. The following chart below shows the volume of single-family detached home sales in Simi Valley for 2009. Notice that the bulk of the sales are taking place on the entry-level range of the market. Any months were sales creep up in the sub luxury and luxury markets and the median number gets skewed.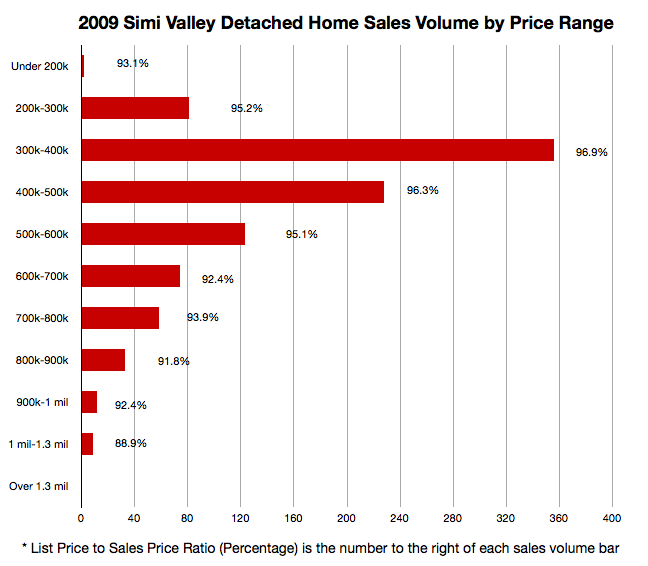 Another error in evaluating real estate market conditions is looking at regional data. Most traditional media sources get their information from sources like Dataquick. While Dataquick provides accurate regional data, the data is too broad for the current market conditions so we have to dig deeper and look locally or even hyper locally determine how the market is reacting. Current regional reporting is indicating price increases. This is a county wide report and when we look closer at just the home sales for Simi Valley a far different picture emerges.
Sales volume is dropped off since it's high in December and Simi Valley's average sales price has steadily declined over the last three months  erasing the games from the second half of the year. I have continually predicted a bumpy bottom and we are in that cycle now or should I say still.
If you look at the chart below, the last three years average sale prices for Simi Valley single-family detached homes show the importance of not lumping Simi Valley into a countywide report. If you are a Simi Valley home buyer or home seller, you need to know what the true market conditions are in order to plan properly.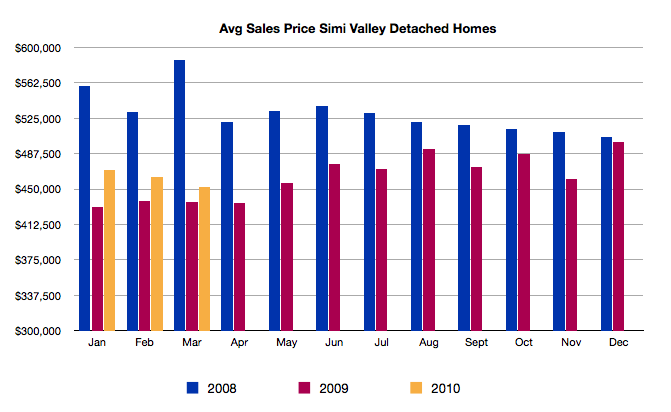 Any Real recovery in the Simi Valley real estate market in Southern California overall is going to be tied to employment, affordability, interest rates and a depletion of the mega inventory of distressed loans still unresolved by the banking industry.
Thanks for reading Simi Valley's Premiere Real Estate Blog!
Author – Ted Mackel Simi Valley Real Estate Agent – Keller Williams Realty
Ted Mackel is a top producer at Keller Williams Realty Simi Valley,
specializing in Simi Valley Real Estate
(805) 432-7705