Contingent Simi Valley Homes in Escrows out number Sales by 3 times, why?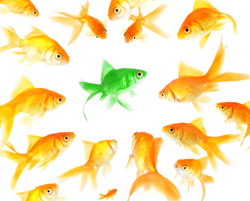 As a Realtor,  I have access to detailed information on all the Home Sales activity posted in the multiple listing service. My avocation of real estate blogging pushes me to dig deeper into the numbers so I can provide a better economic snapshot of how Simi Valley home sales and pricing is reacting to current buyer and seller sentiment.
Important numbers to get a barometrical view of the market include
the number of active homes for sale
the number of homes with the status of contingent
the number of homes pending
and of course the number of homes selling
The number of homes active for sale is a tricky number as the multiple listing service lumps the actives and the homes contingent together. However, looking closer at the contingent properties a remarkable number sticks out. Month after month after month through 2009 and continuing in 2010, contingent properties dwarf  our monthly closing rates by as much a 3 times. Between the properties that are active and the amount of properties that close on average each month this massive number properties sitting contingent never catch up or diminish.  Like Many Short Sales, they never close.
So what is the situation with all these contingent properties?
Let's look at the numbers for today, February 25, 2010. Currently there are 171 Simi Valley single-family detached homes listed as contingent.   Just to review, contingent means that an offer has been accepted.    Of these  171 properties, 115 are short sales. This leaves 56 properties with the potential to close. As of today, 47 single-family detached homes have closed escrow. With just a couple of days left in the month, closings for Simi Valley single-family detached homes may dip below January's count of 74. This is not alarming, as it follows a pretty predictable trend year-over-year in up and down markets. What is important to know out of all of this, is  that this huge inventory of short sale escrows is a good indicator that a recovery is going to be a long and slow process.
Next time you hear that there are 350 or more single-family detached homes for sale in Simi Valley, you can lop off  at least 40% of those homes as they are in short sale limbo. Our averages for active listings in Simi Valley on a weekly basis were averaging below 170 total single-family detached homes for sale up through November 2009. We've had a small bump in for the last couple months have been averaging in the 190's.
Simi Valley Home Sales Report January 2101
Simi Valley Home Sales Report YTD 2009
Thanks for reading Simi Valley's Premiere Real Estate Blog!
Author – Ted Mackel Simi Valley Real Estate Agent – Keller Williams Realty
Ted Mackel is a top producer at Keller Williams Realty Simi Valley,
specializing in Simi Valley Real Estate
(805) 432-7705